HEAVY VIEW

LAURA YUILE
12 OCT - 1 DEC
OPENING 11 OCT / 7pm

Working across video, performance, installation and sculpture British artist Laura Yuile's work probes a range of concerns about contemporary lived experience. In her sculptures and installations Yuile often employs perishable, ephemeral or domestic materials such as soap, lint, food, or dust, that operate as containers for meanings and ideas about the body, the urban and everyday.
In
Heavy View
Yuile has collected outdated and malfunctioning TVs. Grouped together like constellations of overlapping pop-up windows on a computer desktop, the TV's have had their screens partially or fully pebble dashed. This cheap architectural render is imbued with all the associations of suburbia, which Yuile employs as both a 'white-noise' and an urban camouflage. In doing so Yuile intends to make these salvaged objects disappear whilst simultaneously amplifying their 'object-ness' - giving them a renewed chance to exist as something else.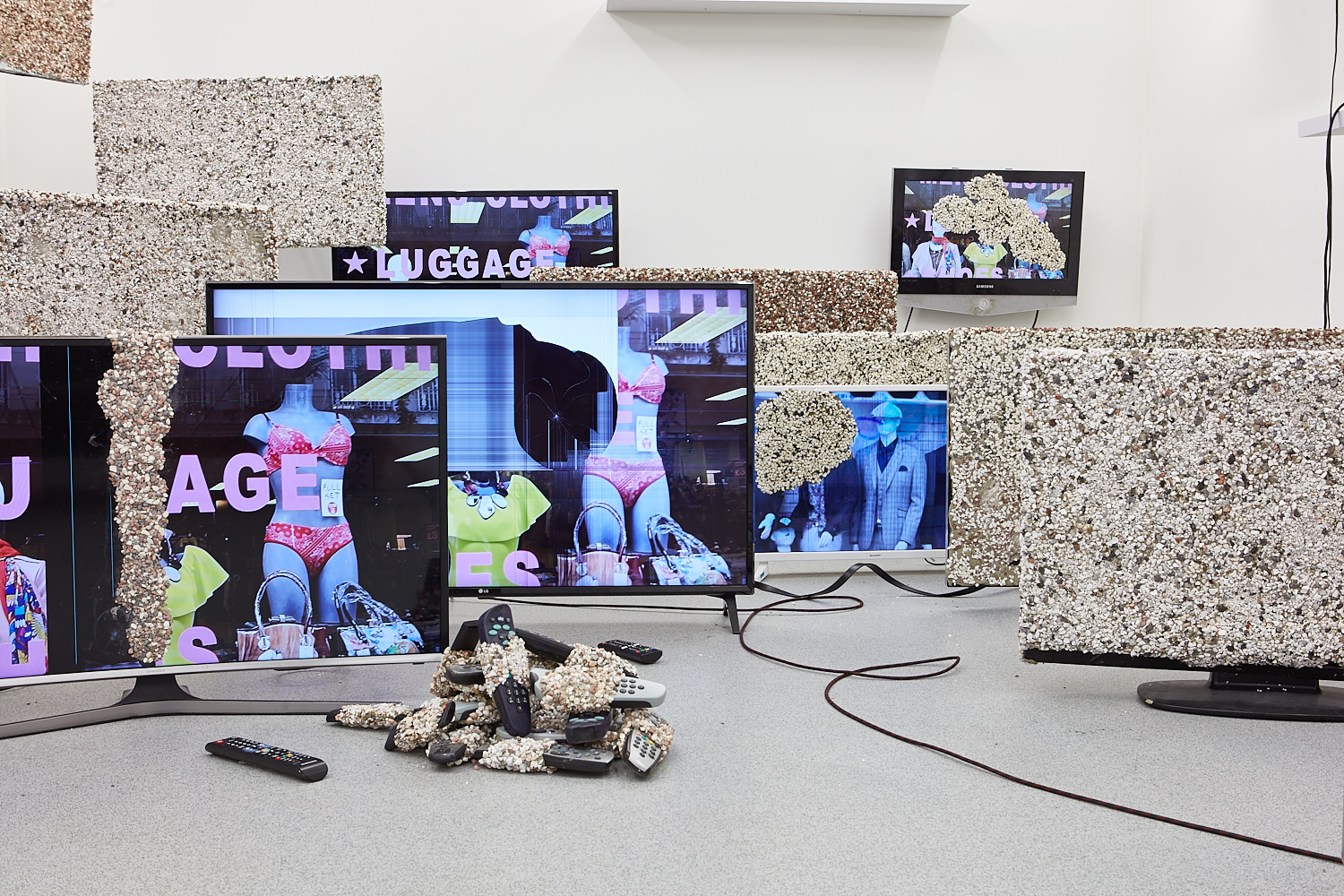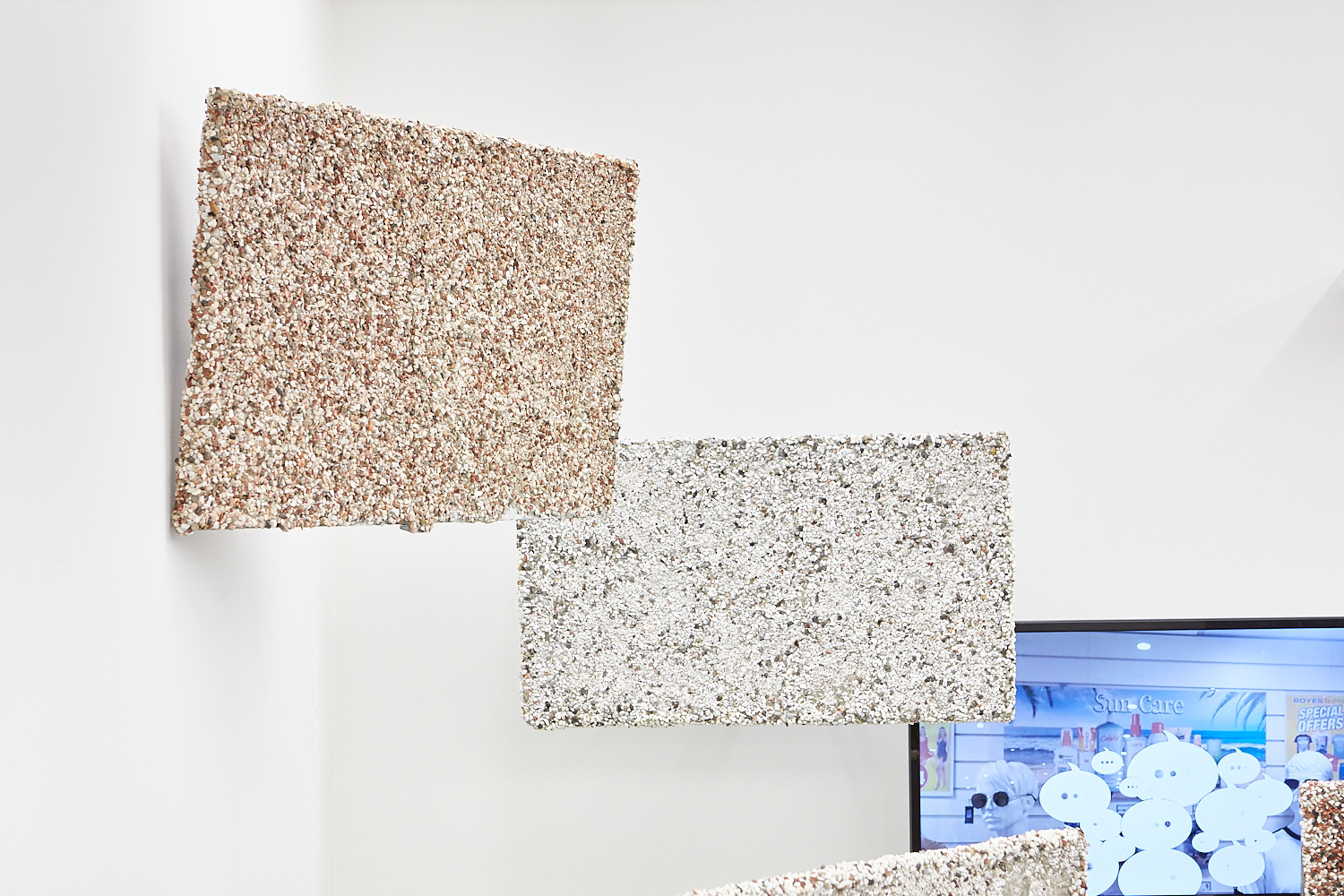 On the covered screens Yuile presents a new film in which mannequins are given voice overs, acting out a script of failed and fragmented conversations between themselves, the artist and pedestrians on the street.
Perpetually facing outwards, the mannequins are observant yet disconnected. Standing motionless and trapped in their role as observer behind a screen, the mannequins are the idealised versions of a human body - their hollow plastic shells mirroring that of the plastic carcasses of the broken TV's.
Alongside the installation Yuile presents
Asset Arrest
, an ongoing series of weekly radio broadcasts in which she records her experiences of posing as a potential buyer of luxury apartments. Available to listen online on
RTM.FM
, the recordings will also be played in the gallery.
Heavy View
has developed out of Yuile's consideration of technological and architectural obsolescence; the failed utopia of modernist social housing and the rapid waste generated by unfashionable or unrepairable devices. As part of the exhibition Yuile and TACO! have devised a series of events that expand upon a range of ideas that are explored within her work. More details to be announced. A small artist publication accompanies the exhibition.
Heavy View has been made possible by the generous support of The Elephant Trust, Arts Council England and Peabody.
DREAMSTIMEFREE - THE END

Deadline 8 dec

This is the beginning, it's only fitting that we consider its end.
We've been losing sleep over it.
Nightmares of a destroyed hot world.
The mad end.
Mutually assured.
Not with a bang but with a whimper.
A boot on your face.
Our own end.
Of elaborate plans and everything that stands.
Of fresh fruit. Of cheap french wine.
Small and inconsequential yet easier to handle don't you think?
It was only ever the means to an end.
Their means.
Their end.
Those fuckers.
It'll be the end of something and the beginning of something else.
We wish it would end
for an all consuming gaping maw
for a ship of fools
for privileged white men
for the 1%
for the government
And end to all that. And end to them. Their end.
A dead fucking end for those dead end fuckers.
We can't wait
We'll embrace it. We'll be liberated.
No looking back.
Into the black we will go.
Beyond the known universe.
We'll see what is on the other side.
The last great unknown.
The big 'O'
Omega
The end of the line baby!
We'll break through. The final trip.
We're never coming down!
We're never coming back!
We've missed our flight. The wait at the airport.
When can we get on?
When can we get off?
When will it stop?
Are we nearly there yet?
no, we're never coming back.
Om Shanti Shanti Shanti
Is it the end?
This is the end. Full stop.
No really, this is the end.
- ENDS -
For the inaugural edition of
DreamsTimeFree
, a new bi annual publication of experimental artists writing published by TACO!, responses are sought for the theme of
The End
.
All submissions should be sent via email with full contact details and a short CV. Deadline for submissions is
8 Dec @ 5pm
Submissions can take the form of written pieces (no more than 2000 words) or text and image pieces of no more than 8 pages.
Proposals for events to accompany submitted pieces (performances, readings, screenings or other) are welcome.
All submissions to be sent electronically to nb(at)taco.org.uk with the subject header 'The End'.
We are unfortunately not able to pay for submissions or selected content.
DreamsTimeFree
is an open submission bi-annual publication that is non profit making. Published contributors receive a number of copies by way of recompense. Artists and contributors selected for an event do however receive an event fee and expenses.
CONSTRUCTIONS #3
SUNDAY 24 NOV- 4pm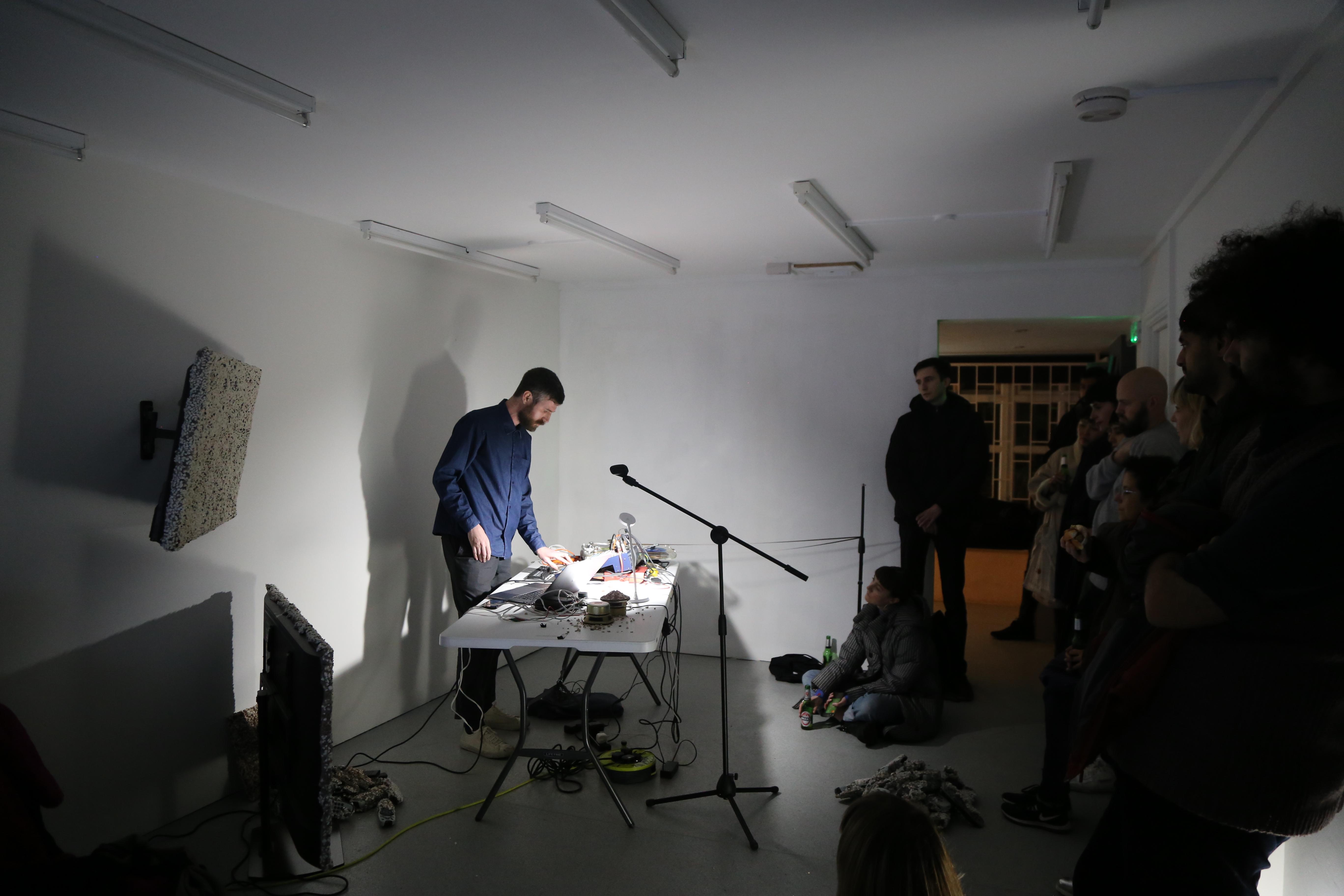 For Constructions #3, Rebecca Lennon, Tom White and Pouya Ehsaei have been invited to perform within the gallery space of TACO!, set amongst the current exhibition by
Laura Yuile
.
Recordings of each performance are available to listen too here
Rebecca Lennon
works across media including video, text, performance, sound and music to think about and play with the non-linear shapes and rhythms of the voice, memory and the speaking body. Recent projects include: The Whitstable Biennial 2018, solo exhibitions at Matts Gallery, London and Almanac, Turin and a poly-vocal, surround sound performance at Kunstraum, London. Currently, she is working towards large-scale solo commissions for Dilston Grove, Southwark Park Galleries in collaboration with Matt's Gallery, London and Primary, Nottingham, and a text published by Ma Bibliothèque. Rebecca performs spoken word musical projects both independently and in collaboration with other artists and will feature on BBC Radio 3 Late Junction next month.
Tom White
is a London-based artist. His multidisciplinary practice spreads across sound, moving image, installation and live performance. Past projects include commissions and appearances for Radiophrenia, Glasgow (CCA); BRAUBLFF (KRAAK & De Player); Whitechapel Gallery, London & Colour out of Space Festival, Brighton. Collaborators include Maya Dunietz, Kieron Piercy, Ben Knight, Stuart Chalmers and most recently in Al Fresco with Lia Mazzari & Sholto Dobie . He won the British Composer Award in 2014 (Sonic Art) for Public Address, commissioned by South London Gallery. In 2016 he founded Apologies in Advance; a platform for artists presenting work in progress performances.
Pouya Ehsaei
is an Iranian musician, producer and artist currently residing in London. Beside his solo experimental sound projects, he is involved in various collaborations with dancers, performers and other musicians. He is the founder and the leader of the band "Ariwo" and founder of "Parasang" where he collaborates with musicians from around the world to perform spontaneous, dark and hypnotic live shows. He has performed at Barbican Centre, Southbank Centre, Village Underground and the Royal Academy of Arts in London as well as several festivals of music and performance including Womex, Womad, Line Check, Boomtown and SPILL.
Constructions
is an ongoing series of experimental music performance events curated by
Kate Carr
and Mat Jenner. Encompassing a range of musical styles and genres, events are presented at TACO! or offsite in locations around Thamesmead. Each event responds to the current exhibition.
Image: Dominka Keirzuel and Matt Berka, Constructions #1
Tom Richards and Frances Scott

SAT 7 DEC / 7PM
As part of Frances Scott's
ongoing research residency
with TACO!, Frances is collaborating with musician and researcher Tom Richards to produce elements of the soundtrack for her new film,
Wendy
. Their collaboration will result in a live performance of the score.
During his PhD in 2016, Tom built a music synthesiser and sequencer designed - but never realised - in 1976 by Daphne Oram (1925–2003). Oram was one of the pioneers of electronic music in Britain and one of the founding members of the BBC Radiophonic Workshop.
When performed live, the Mini Oramics machine uses graphic scores, producing a drawn-sound. This 'drawn sound synthesis' will be used as a method to translate a Wendy Carlos composition used in Stanley Kubrick's film adaptation of
A Clockwork Orange.
Tom Richards' performances encompass sonic art, sculpture and music. Using a variety of custom-built instruments, his pieces explore percussive patterns and improvised gestural synthesis, referencing aspects of techno and avant-garde composition.Tom has performed and exhibited widely in the UK, as well as internationally in the US, Germany, Peru, Singapore, Japan and Sweden.
Frances Scott has exhibited nationally and internationally, and her recent exhibitions and screenings include: 57th New York Film Festival (2019); Close Up Film Centre, London (2018 / 2019); Institute of Making UCL (2019); Het Bos, Antwerp (2018); RTM.FM/TACO! (2018); Tate St Ives (2018); The Bower, London (2018); Annely Juda Fine Art, London (2018); Yorkshire Sculpture Park (2017); Whitechapel Gallery, London (2015/2017); Peninsula Arts and South West Film & Television Archive, Plymouth (2017); Focal Point Gallery, Southend (2016); and 'Selected III' videoclub and FLAMIN screenings in the UK and USA including Anthology Film Archives, New York, Seattle International Film Festival, and LA Film Forum, Los Angeles (2014). In 2017 Frances was recipient of the inaugural Stuart Croft Foundation Moving Image Award.
RTM RADIO
RTM.FM
is a radio station developed and managed by TACO! as a platform for community produced culture, debate, art and music. The station provides opportunities for local people to produce and distribute their own content and learn new skills in broadcasting, production, and presenting.
TACO! manages the broadcast studio, coordinates the RTM community, supports the delivery of the station and ensures access for anyone to make and broadcast their own content. In addition to managing the studio set up, also programmes arts content on the station's broadcast schedule.
The station's broadcast content and public facing activities are developed in collaboration with the wider community. Decisions on station policy, broadcast scheduling, submitted content, public events, training and budgets are made by a voluntary RTM management committee made up by individuals from the community. This group is supported to undertake this role by TACO! as part of the and through funding from Arts Council England and
the Creative People and Places fund
.
Membership of the committee is for a set time period with members stepping out of the group to make space for new members after their turn is complete. To represent the interests of the RTM community an RTM committee member attends the decision making meetings of the
board of directors
of TACO!
The station is currently seeking proposals for shows and regular broadcast content. If you would like to get involved then send us your proposals
here
.
The station takes its name in homage to the original RTM, which was started in 1978, one of the first community radio stations in the country. The project was initated by TACO! through the commissioing of an artist project by
Sam Skinner
in 2018.
You can listen to documentry made by the artist about the histroy of radio in Thamesmead here