Thamesmead Arts and Culture Office (TACO!) is an artist-led space for research, production, and exchange located in Thamesmead, SE London. TACO! is engaged with its local context whilst simultaneously supporting dialogue with artists and contemporary art.
TACO!'s activities are experimental and collaborative. Invited artists are supported to research, develop and realise projects over a dedicated period of time. This research informs a public programme that includes exhibitions, events, discussions, workshops, screenings, publishing, and co-authored participatory projects with local people and groups. Projects initiated by artists vary in duration. We set an open timeframe with no set expectations on outcomes.
TACO! provides a platform for independent publications, zines, vinyl and artist materials produced by publishers, small press, groups, galleries, and artist practitioners. We welcome submissions and proposals for items to be stocked. Please read our guidelines
︎
before sending us your titles, or email us with your enquiry -
info@taco.org.uk
§
The acronym TACO! is reinterpreted and renamed by each cohort of artists we work with, in any given period of time. This reinterpretation forms a temporary public name for the organisation, marks each annual iteration of the programme and reflects something of our present interests and concerns. Our current name and programme title is
Twang! Achoo! Clang! Oooff!
§
Follow us and what we do here
︎
info@taco.org.uk
During exhibition times TACO! is open Thursday to Sunday, 12pm-6pm.
TACO!
30 Poplar Place
Thamesmead
London SE28 8BA
Train: Abbeywood from London Bridge, Cannon St, Charing Cross, Farringdon
Buses: (Boiler House Stop) 177, 244, 401, 229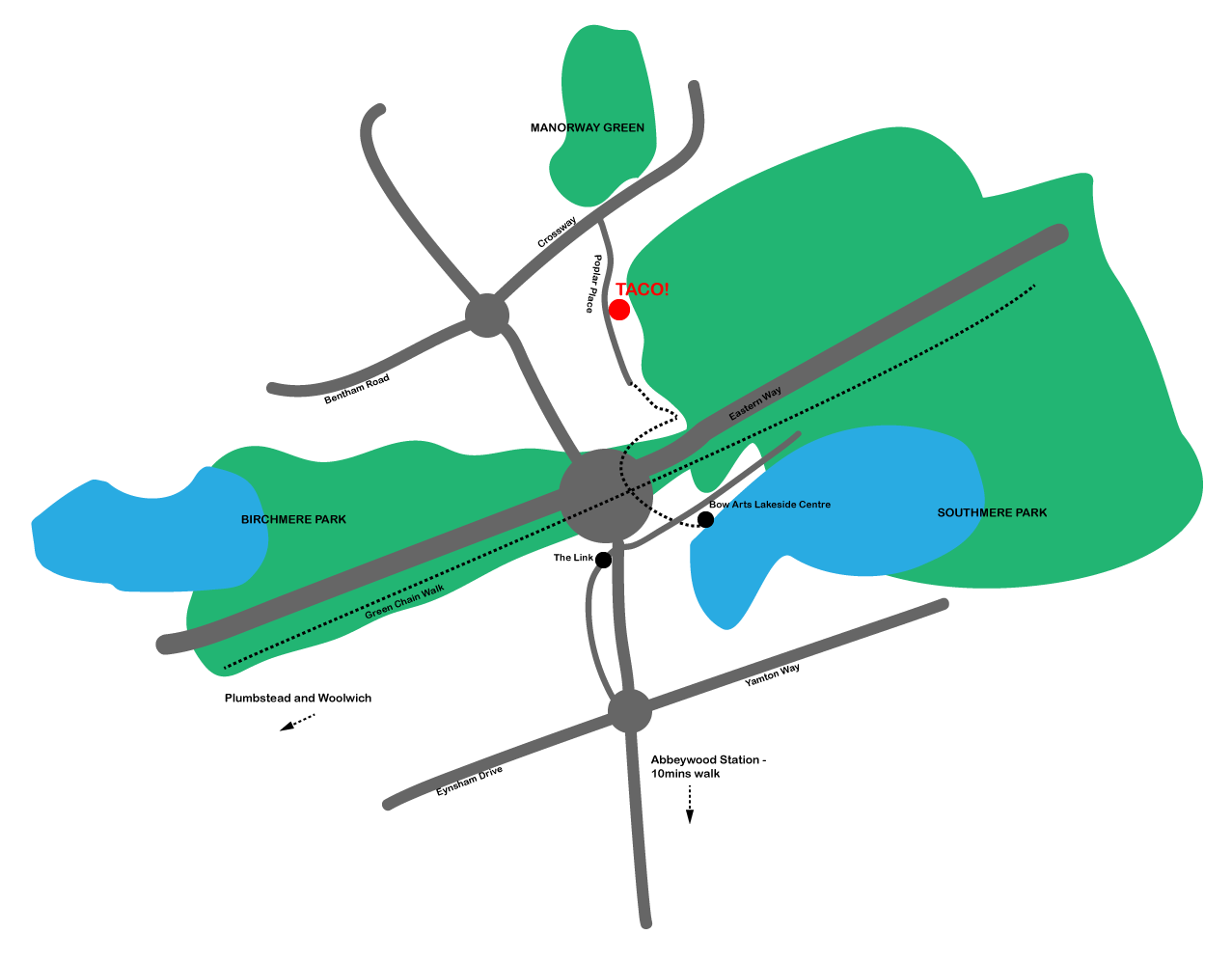 §
TACO! is a non-for profit organisation. 100% of the money we fundraise and earn through the sales of items in our shop, goes towards furthering the work we do with artists and audiences. We're entirely dependent on the generosity of the people we meet and the partners we work with. If you would like to find out how you can support TACO! and be involved in the work we do then please get in touch
Our thanks to…