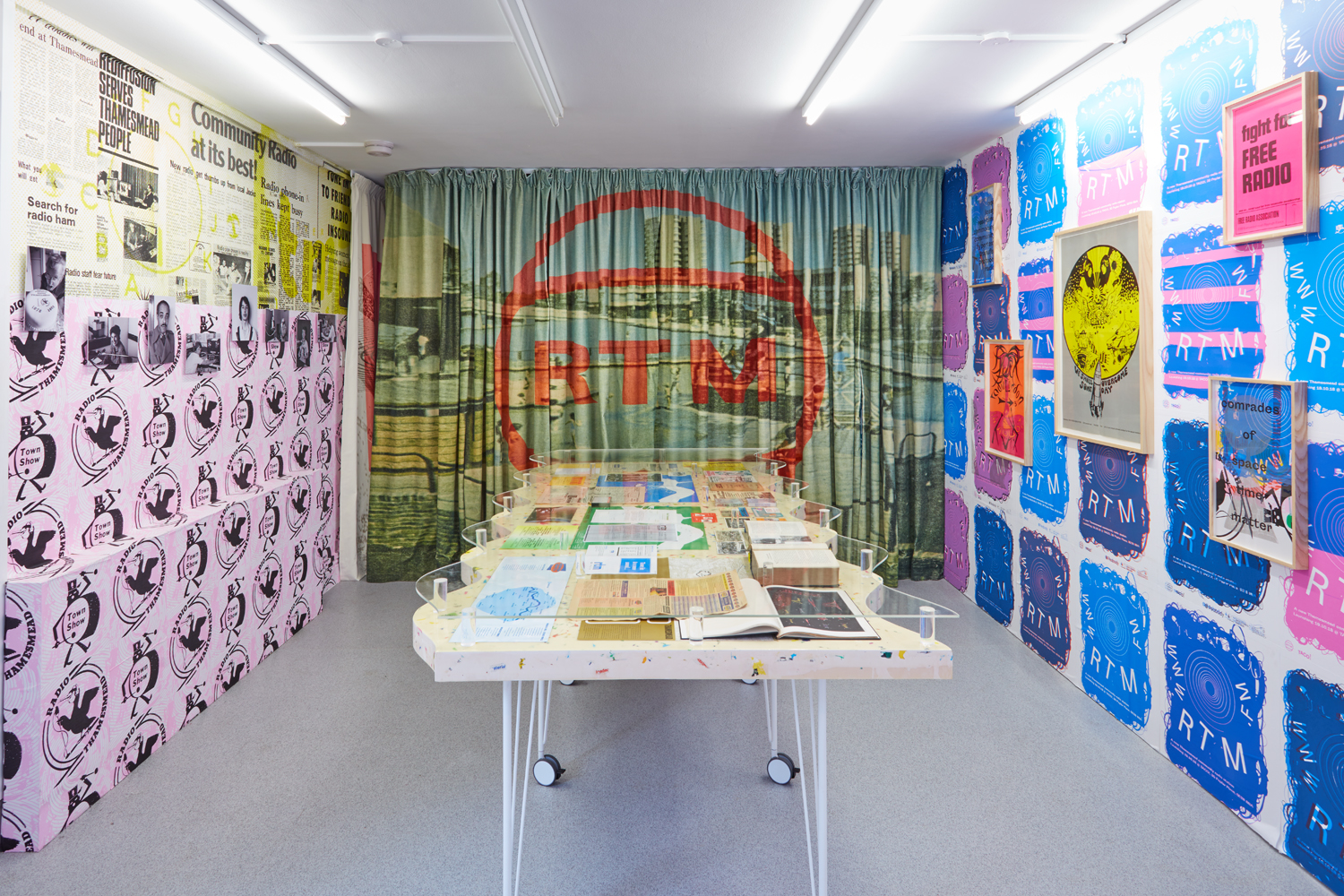 RTM.FM
Oct 19th - Nov 18th, Thurs - Sunday 12-6pm
Radio Broadcasting 24/7 on
www.rtm.fm
See website for further details events
----
Developed in collaboration with artist Sam Skinner, Radio Thamesmead (RTM) is a new radio station, broadcasting live from TACO!
Sam whose work explores the relationships between technology, media and community, was invited by TACO! to develop a project to re-establish community radio in Thamesmead. Sam has turned the gallery at TACO! into RTM (
www.rtm.fm
), an installation with live radio station broadcasting an eclectic mix of music, spoken word, local history interviews and more. RTM's programmes are made and presented by local people and groups including Mary Martins, Hasina Zuberi, Willaim Ofuso- Apea, SP Studios, Carolyn Long, Panto Dame Mama G, Michael Ohajuru, Tatiana Ellis and Alex Tuckwood and many more. As part of the broadcast schedule, contemporary artists have been invited by TACO! and Sam. Participating artists include Frances Scott, Larry Achiampong, Tom Richards, Kate Carr, Anne Hardy, Lisa Selby, Mark Vernon, and David Gauthier. A programme of live events for broadcast including, performances, readings and talks will be held weekly. Updates to the scheudle and programme can be found on the RTM website.
Named after the area's original community station, RTM both reflects on and revives the long cultural history of radio in Thamesmead, establishing an online broadcasting platform made for and by local people. Thamesmead has a long cultural history of radio. In 1978
Radio Thamesmead (RTM)
was launched, broadcasting on a localised cable radio system from a studio from a cupboard in a local church before moving to Tavy Bridge. The content of the station was distinctly made for, and by, Thamesmead. This was one of the first examples of the then new technology of cable radio being used. The stations' position as a positive cultural force was uniquely represented by the redistribution of its financial profits back into the regeneration and well being of the local community. By 1990
RTM
was broadcasting on FM radio as (103.8FM) and in 1997 the station changed its name to
Millennium 106.8
- a result of the station being taken into private ownership. In 1999 the station became
Time 106.8
but by April 2009 the station was forced to close and now no longer exists.
As well as setting up a live broadcast studio the project has developed a free skills training programme for local people in production and broadcasting, a steering group to manage the station as a community cultural resource and a network of local broadcasters and content producers.
Sam's project works across a range of media, interior design and exhibition typologies to investigate the practice of the 'gesamtkunstwerk' or synthesis of the arts. Functional elements; from microphones to chairs, speakers to sound insulation, neon, posters and promotional material, combine in the gallery to create a dynamic aesthetic and functional social space. Archival material consisting of audio, documents, photos and ephemera from the history of community radio in Thamesmead and that of radio more widely are presented as part of the installation, including lithographs from 1877 depicting early experiments in electromagnetism by Augusto Righi and screen printed posters from the 1960's and 70's promoting the free Radio movement.
Sam is interested in how an art practice that operates between use and ornament may manifest via the focal point of a locally embedded, socio-technical institution, such as a radio station. The installation supports a nonlinear engagement with both the new and the old station, the living histories and futures of radio, and the unique ways different communities engage with the medium, and wider media ecologies.
Sam Skinner lives in Thamesmead. His work explores relations between communities and technology. In 2017 he co-curated The New Observatory exhibition at FACT, Liverpool in collaboration with the Open Data Institute that translated historical research on the old Liverpool and Bidston observatories into a large scale group exhibition. Sam co-directs the publishing project Torque Editions producing projects with, amongst others, Tate Liverpool, Mencap, and The Grundy, Blackpool.