INCANTATION, WENDY
10 SEPT / 19:00


FRANCES SCOTT, BETH BRAMICH, JULIET JACQUES , OWEN HATHERLEY, DAVE TOMPKINS
**This event takes place at The Nest, 3 Cygnet Square, Thamesmead,London, SE2 9FA (see map ref)**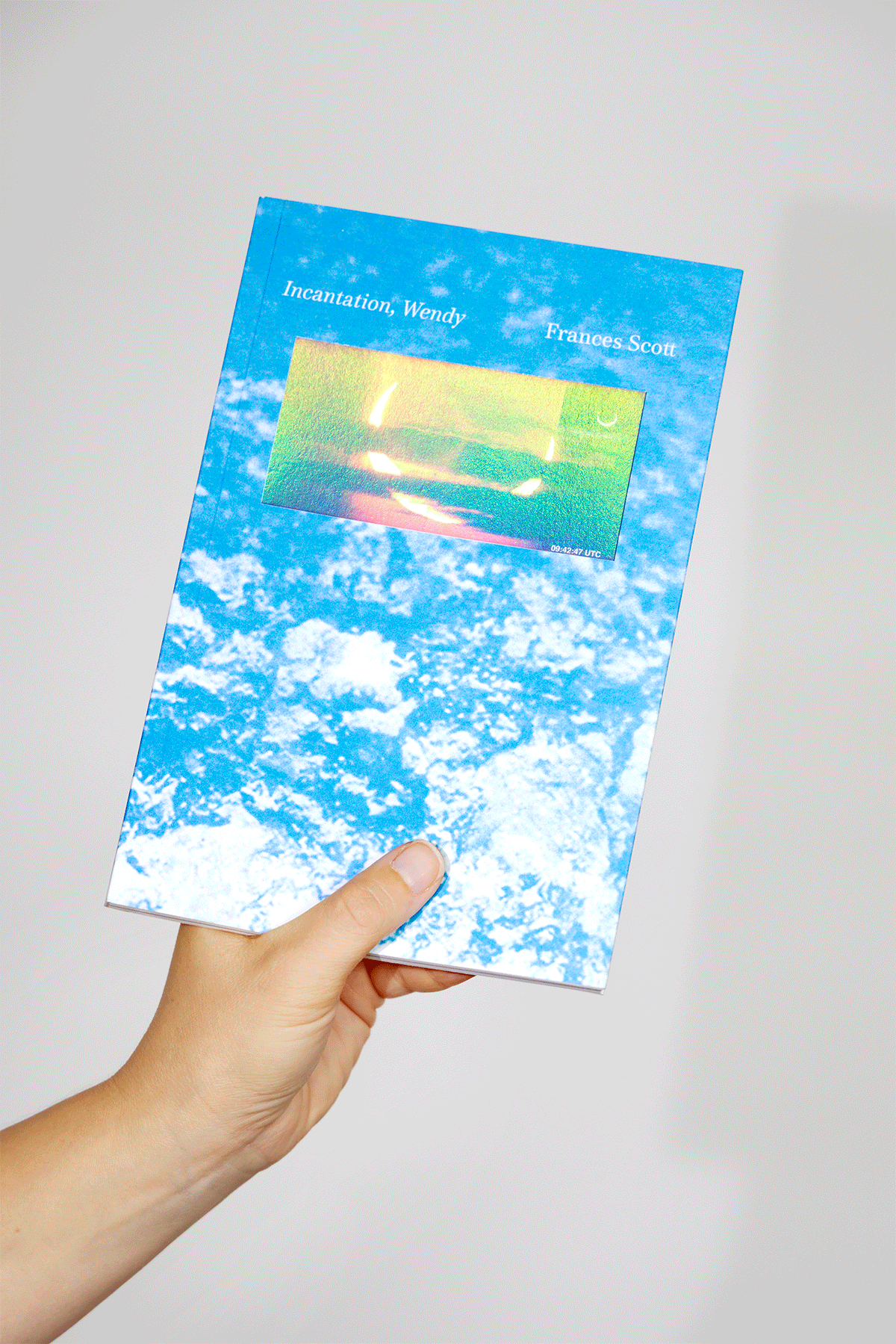 switching, like an eclipse,
making a circle
shaping, my hands, shaping
To launch Frances Scott's new book
Incantation, Wendy
, Scott will be joined by contributors Beth Bramich, Juliet Jacques and Dave Tompkins, and writer Owen Hatherley.
Incantation, Wendy
is published by An Endless Supply under their Bobo imprint, and forms part of
Wendy
, a research residency and commission with
TACO!
.
Following an introduction from Scott and Tompkins to the book and Scott's forthcoming film fan letter to composer Wendy Carlos,
Wendy
(2022), Jacques will be in conversation with Hatherley about her essay 'Becoming Human: A Clockwork Orange, The Human League and Gender Liberation', discussing the influence of Wendy Carlos on post-punk in the UK, and the context of Thamesmead during the 50th anniversary of Kubrick's film
A Clockwork Orange
(1971). The event will conclude with records played by Tompkins, connected to his research around vocal synthesis and the history of the Vocoder.
Incantation, Wendy
precedes
Wendy
and meditates on Carlos as 'The Original Synth', moving across channels that speak of the unbounded voice in collaboration, synthesis and transition; through vocoders, archives, re-readings, light pulses, solar flares and cyclical returns; and in concert with horses, moons and a sun, eclipsing as it rises above the horizon. The book features written contributions by Beth Bramich, Stine Hebert, Juliet Jacques, Tom Richards, Chu-Li Shewring and Dave Tompkins, accompanied by hand-drawn music scores, film stills and script notes produced during Scott's research, and her moving-image work
Valentina
(2020), a rehearsal to camera with performer Valentina Formenti.
The event is ticketed by free to attend. Please book your place
here
The book will be available for a special price of £13 at the launch.
Published price £17 and available to buy on the TACO! shop
Supported by Arts Council England and Peabody.
…
Beth Bramich
is a writer and editor based in London. Her writing has featured in
Art Monthly
,
Frieze
and
Afterall
, and she regularly collaborates with artists on films, exhibitions, events and publications. In 2019 she joined the working group for the 'Feminist Duration Reading Group', co-organising an ongoing programme of workshops and discussions. She teaches at Central Saint Martins, University of the Arts London, and is currently developing a research project into feminist film collectives formed in the 1970s in the UK and Australia, and their contemporary legacies.
Owen Hatherley
writes on architecture, culture and politics for
Architectural Review
, the
Guardian
,
Jacobin
and the
London Review of Books
, among others. He is the author of several books, including
Militant Modernism
(Zer0, 2009),
A Guide to the New Ruins of Great Britain
(Verso, 2010)
Landscapes of Communism
(Penguin, 2015),
The Chaplin Machine
(Pluto, 2016) and
Red Metropolis
(Repeater, 2020). His most recent books are a collection of essays,
Clean Living Under Difficult Circumstances
(Verso 2021), and the forthcoming
Modern Buildings in Britain: A Gazetteer
(Penguin, 2021). He is also the editor of
The Alternative Guide to the London Boroughs
(Open House, 2020), and the culture editor of
Tribune
.
Juliet Jacques
is a writer, filmmaker, academic and broadcaster. Her books include
Trans: A Memoir
(Verso, 2015), based on her
Transgender Journey
series for
The Guardian
(2010–12), and
Variations
(Influx Press, 2021), a collection of short stories exploring the history of trans and non-binary people in the UK. Her short fiction, essays and journalism have appeared in numerous publications, including
Art Review
,
Frieze
,
Granta
,
The New York Times
,
Sight & Sound
,
Time Out
and
Wire
, and her short films have been screened in galleries and festivals worldwide. She hosts the arts radio programme
Suite (212)
on Resonance 104.4fm and teaches at the Royal College of Art, London and elsewhere.
Frances Scott
is an artist working with the moving image. Her film work, informed by a collaborative and research-led process, takes multiple forms, from exhibitions to installations, screenings, events, broadcasts and publications, including recent presentations at: 67. International Short Film Festival Oberhausen (distributor screening); Rencontres Internationales Paris/Berlin; transmediale x CTM, Berlin; TACO!, London; 57th New York Film Festival; Close Up Film Centre, London; Het Bos, Antwerp; The Bower, London; Tate St Ives, Cornwall; Whitechapel Gallery, London; Yorkshire Sculpture Park and Art Licks; South West Film and Television Archive, Plymouth; and Focal Point Gallery, Southend. She is a recipient of the Stuart Croft Foundation Moving Image Award (2017) and her films are distributed by LUX.
Dave Tompkins
is a writer currently working on a book about Miami Bass (Simon & Schuster, 2022). His first book,
How To Wreck A Nice Beach: The Vocoder From World War II to Hip-Hop
, was published by StopSmiling/Melville House. He has written for
The Paris Review
,
The New Yorker
,
New York Magazine
,
The Wire
and
Ego Trip
. He recently contributed to the
Unsound Intermission
anthology ("It Takes A Cavitation of Millions") and wrote about the Jungle Brothers and dowsing ("Done By the Trickle Trickle") for the forthcoming collection,
Boogie Down Predictions
, edited by Roy Christopher, to be published by Strange Attractor/MIT Press. Born in North Carolina, he lives in Brooklyn.
An Endless Supply
is a design studio in Birmingham, UK, established in 2011 by Harry Blackett and Robin Kirkham. They work with artists and organisations making websites and printed matter. Bobo is the occasional publishing arm of AES, and was launched in 2019. AES and Frances Scott have worked together since 2017, when they designed the printed script for her film
Its soil was a plot she do the tree in different voices
, and the titles for her films,
Valentina
(2020) and forthcoming
Wendy
(2022).